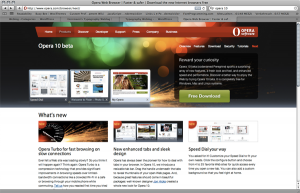 The team of Opera was actually one of the first ones which worked on an @font-face implementation for linked TrueType/OpenType fonts. But this feature never made it in any of the final released. In Opera 10 it should finally happen and you can try it yourself with the public beta. Here is a short test of the webfont features.

Rendering
The rendering quality of the webfonts is sometimes quite good …

… but most of the fonts I tested get a very strange type treatment with overlapping glyphs:
… which makes the type in smaller sizes almost unreadable:
What about kerning and OpenType features?
Not much to report here. While Opera shows me beautiful ligatures of my local Zapfino (with AAT), webfonts in Opera are not displayed with any OpenType features or kerning (but with those nasty overlaps again, this time using Arno Pro from Adobe).
Accessing different styles
As Richard Rutter pointed out: "it's really depressing". The browser developers seem to only think of those typical system fonts with 4 styles in a font family. Anything beyond that will cause trouble and Opera is no exception to that rule.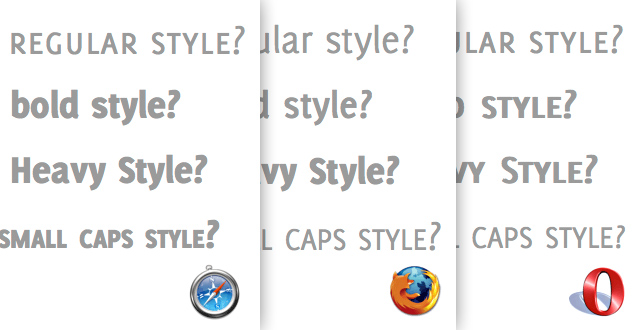 In this test with 3 weights and one additional small caps style only Firefox renders the fonts correctly. Safari and Opera get it all mixed up.
What else?
Like Firefox, Opera will also show a system font while the linked webfont is being loaded. My wish for support for the Unicode-Range feature is not fulfilled once more (see Firefox sneek peek). This would give both font and web designers more flexibility with multilingual content.
Considering how long Opera has been working on their webfont support, the results are a little bit disappointing to me. Now that webfonts are getting more and more attention and commercial foundries are beginning to support @font-face linking, the browsers should at least support basic features like providing the ability to access every possible style in a font family with the standardized way. And browser makes should probably ask font vendors to send in their fonts for testing. Recent commercial fonts rely more and more on OpenType features and users will be very disappointed to find out that their purchased script font with hundreds of ornamental ascenders and descenders is probably not going to look as nice on the web.